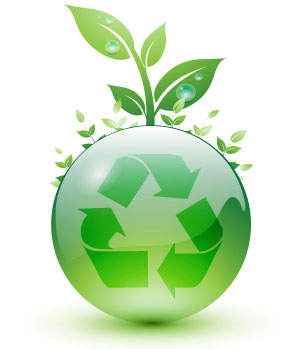 "GREEN" PROCUREMENT
The Purchasing Department supports Environmentally Preferred Purchasing (EPP) practices and encourages the purchase of products and services that effectively minimize negative environmental impacts through their material composition, manufacturing, transport, packaging, energy, consumption, maintenance, and recycling or disposal. The University of Alabama is committed to sustainable behavior including purchasing practices. In our efforts to request and purchase the most energy efficient and least waste-producing products that meet our needs, we rely on the expertise of our Office of Sustainability.
Get started buying "GREEN" today. Ask yourself the following questions about your purchase.
Ask first if this purchase is really necessary (reduce consumption)
Consider 'environmental' costs, which include the cost of disposal/recycling
Due consideration should be given at all times when purchasing goods and services which can be manufactured, used and disposed of in an environmentally friendly way
Where items are of a similar cost, try to give preference to those that are manufactured with a high recycled content and/or from sustainable sources
Wherever possible, prioritize items that can be reused or recycled
Wherever practical, preference should be given to suppliers that can demonstrate how they are reducing their environmental impact
Wherever practical, work with your suppliers to progress environmental initiatives and exchange best practice. In particular, purchasers should consider:
Reduce energy consumption
Avoid purchasing products from endangered stocks or forests
Waste minimization, reuse and recycling opportunities
Implications of disposal after goods have reached 'end of life'
Avoidance of ozone depleting substances
Avoidance of volatile organic compounds
Reduce purchasing of materials containing heavy metals
Control of discharges to air, land and water
Noise levels generated from plant and industry
Toxicity of materials released to land, air and water
Reduced packaging 
Environmentally Preferable Products:
Environmentally preferable products are ones that are less harmful to human health and the environment when compared with competing products that serve the same purpose. They should be:
Fit for the purpose and provide value for money
Energy and resource efficient
Not from endangered species (flora and fauna)
Minimum use of virgin materials
Maximum use of post-consumer materials
Non (or reduced) polluting
Durable, easily upgraded and repairable
Reusable and recyclable 
Buying "GREEN" helps to:
Improve safety and health of our students, staff, faculty, and the public.
Conserve natural resources and energy.
Stimulate new markets for recycled materials and create jobs.
Improve awareness of environmental stewardship.
Comply with environmental laws and regulations.
Websites to visit for Environmentally Preferred Purchasing (EPP) information:
The University of Alabama Office of Sustainability
Energy Star
Electronic Product Environmental Assessment Tool (EPEAT)
Pollution Prevention Regional Information Center
Environmental Protection Agency