User Guide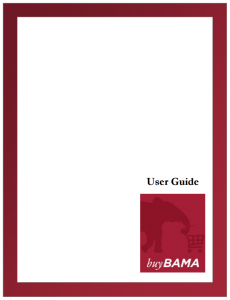 This instruction manual gives comprehensive step-by-step instructions on each of the primary functions completed through buyBAMA.  Developed to be the primary reference guide for new users, it also functions as a reference for more experienced users as needed.  Click the headings on the Contents page to quickly navigate to the section that you need.
This concise guide is a great reference for placing your first orders.  It also included reminders for less common order types and the steps to complete receiving.
Single Topic References
It can be difficult to remember how to handle situations that don't come up very often.  The quick reference guides listed below give concise instructions on topics that may only come up once in a while.